Juniper Books has issued its Annual Catalog for 2020-2021. Juniper Books is a bookseller like no other. If I were to try to classify their specialty, I would place it with the book arts, though their offerings go beyond what is traditionally found there. The book arts are usually focused on creating one beautiful book, or perhaps, a set of identical attractive copies. Juniper creates entire landscapes with books. Perhaps designer books better captures what they create.
In its earliest and most basic form, Juniper's art can be traced to the idea of of "books by the foot." In its simplest form, this consists of filling a shelf with books of a matching color, with perhaps all red or blue covers. You would literally buy them by the foot, a foot long stack of red books, the underlying titles being irrelevant so long as the color was the same. Juniper does have a small section still devoted to this type of purchase, but even here, they have evolved from solid colors to offering a rainbow of colors and shades that fit together.
That takes us to what else Juniper offers today. They create sets of books whose spines form a pattern or an image, sometimes a textual message. Usually, the images and written words are coordinated with the subject of the books themselves. For example, if you look at the cover of this catalogue (click image to expand), you will see spines of a book set that creates a map of the United States, another an image of an elephant, the third spells out the series title, Lord of The Rings.
The U.S. map image is called the American Landscape Set. Within the map are images of various American sites. The elephant image is called the Elephant Set and features novels by Ernest Hemingway. For a sense of pricing for the many sets of varying sizes available. the price for the American Landscape Set, consisting of eight books, is $350. The price of the Elephant Set, with nine books, is $395. For some sets, the dust jackets can be purchased separately to be placed on books you already own.
Many more pictured sets are available. The spines of a Mark Twain set contain a portrait of Twain. The same goes for the Charles Dickens set, Winston Churchill's, Theodore Roosevelt's and others. Herman Melville's features a scene onboard a ship across its spines. For a patriotic feel, there are sets with an American flag and with a British flag. There is a Mary Poppins set featuring a yellow umbrella, Nancy Drew with a silhouetted Nancy holding a magnifying glass. The Wizard of Oz Set depicts Dorothy and Toto walking down the Yellow Brick Road (see below). The Classic Cookbooks Utensils Set features a different, colorful cooking utensil on each spine. Golfing and mountaineering sets display a sportsman participating in their sport.
While most sets are designed to be placed upright on a shelf, a few are suited to be stacked horizontally. The London Book Set depicts the London skyline when stacked cover down.
While the most compelling feature is the images running across the spines, others use more typical titles on the spines, with separate artistic patterns on each book rather than a continuous image. And, while the primary feature is the connection between the spines, the covers of these books continue the beauty displayed on the spines.
What we have described so far are Juniper's "off-the-shelf" collections. They will also custom design a single book or entire collection for you. They will create illustrations and designs for the spines and covers in accordance with your request.
While the appearance of their books is what stands out, Juniper is hardly indifferent to content. Their books are mostly selected by subject. While all have artistically designed covers, not all are part of matched sets. Many are standalone copies, curated for readers. They even have a "book of the month club" type program. They provide what they call a collection of "Books Everyone Should Own" where subscribers receive one book a month for a year.
You can reach Juniper Books at 303-946-1494 or customerservice@juniperbooks.com. Their website is found at www.juniperbooks.com.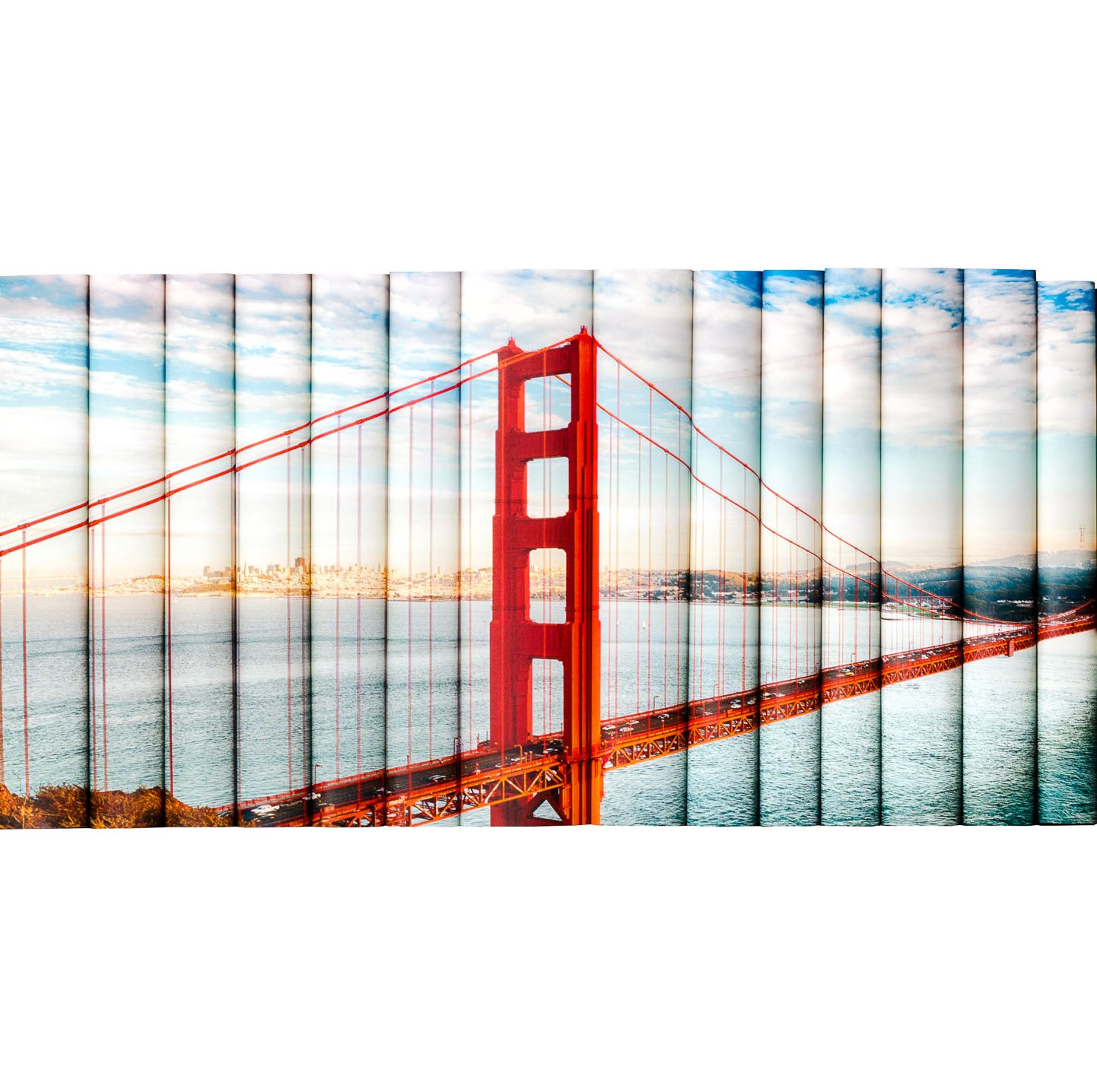 l